Hello,
This is my first post, so I may introduce myself (I did not find a dedicated topic).
I'm a french developper (sorry for the bad english afterwards

), mostly coding on Atari Lynx as a hobby for years (but playing on many consoles), but in 2021 I want to explore new horizons, and NES is a mythic console I didn't dare tp approach before.
Thanks to drludos, I started to code on NES 3 weeks ago, and I think what I achieved right now is quite interesting (it's easier to be indulgent when you are the author
).
Upsad Down takes the most iconic puzzle game, and remix it with a classic from arcade, disturbing all habits and sensations if you are used to the original puzzle game. As said on Twitter, the ball can be helpfull or awfull, but never neutral. You can play with it or try to use it at your advantage, but it will allways disturb the game.
[Submission Edit - replaced old screenshots]
Rom download is here :
http://forums.nesdev.com/viewtopic.php? ... 94#p265783
Right now, there are 2 different games :
Single
: you play on a single playfield , trying to make the highest score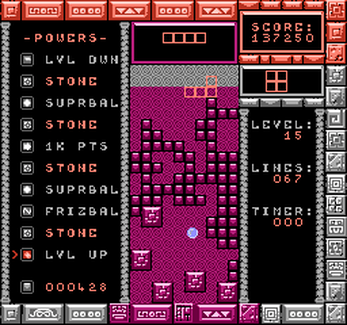 Special
: A bit more challenging and disturbing, you play on both playfields alternatively. When the ball destroy a brick, it is recreated on the other playfield, and when the ball destroy a "Transfert" brick (the one with an arrow), the game will switch to the other playfield on next piece. So you have to deal with disturbed playfield more than once in a game.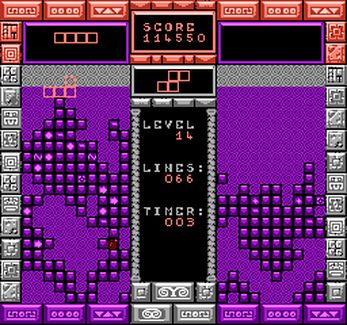 Game speed up to level 9 each time 5 lines are made in this demo. I guess gameplay is classic (Up is to store/swap piece with stocked one)
More special bricks will be implemented (right now, + and - bricks allow to speed an slow up a bit the game), like steel ball, stone bloc (create a 2x2 bloc indestructible on playfield), ...
Music is just a placeholder, I'm waiting for a new one from a friend (same for SFX which are missing right now).
I'd like to enter the contest with it, but I have some questions :
Technical side, I guess it is OK, I use mapper #0 (2 16k PRG bank, 1 8k CHR bank), I'm not yet familiar with mapper and this kind of stuff
My main question is about this point :

Entries must be original. Plagiarism and copyright infringement will result in disqualification

Does Upsad Down differs from original material enough to not be considered as a copyright infringement ? I know copyright holder of the original game are a bit (over)sensitive about it, but in my opinion, the ball is a real game changer.
What do you think, is the game eligible to the contest or should I keep it for myself, and consider working on another game (maybe for next year) ?
And a silly question : where do I have to submit the game ? Is this topic enough, via mail or do I have to use a submission site (itch.io, ...) ? I have not see this point in the rules (but I may have misread) ?
v0.1 demo version : [Edit 2 : does not work on NTSC system - see in post #5 an updated version]
(Edit : tested on a real NES in PAL only, I am interested to hear how it works on NTSC NES)
Also, in a second time, I will complete the Story mode, where you have to deal with some challenges, usually help a character to escape by making lines (but with some twists on objectives). The main world of Story mode will look like a platformer (each letter will be a challenge).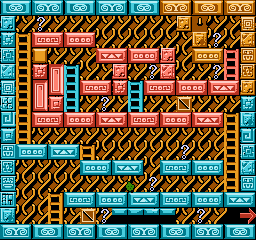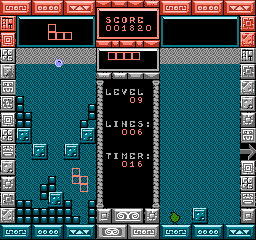 (level 9, quite impossible, but with perseverance, you can succeed)